Just think about it for a second,
Every single aspect of your business, whether it is HR, marketing or finance, rely on IT to function on a daily basis.
It's incredibly important for you to work with a reliable IT company but unfortunately, there is a lot of deception in this industry which can make things confusing.
I'm going to let you in on a little industry secret.
There are many IT support companies telling businesses that they are actually Managed Service Providers (MSPs) and you may not be aware but technically, MSPs and IT Support couldn't be further apart from each other.
Everyone is claiming to be a Managed Service Provider and this means business owners looking for IT solutions are left confused and disappointed because these IT support companies cannot fulfil their initial promises.
This is why you have to be really careful when an IT company labels themselves as an MSP because they may not actually be able to deliver the services of an MSP. (I'll explain these services later). IT support was a necessity in the 90s and early 2000s but they are now redundant in the eyes of many as most businesses have moved on. Technology has changed for the better and IT has become an integral part of every businesses core functions.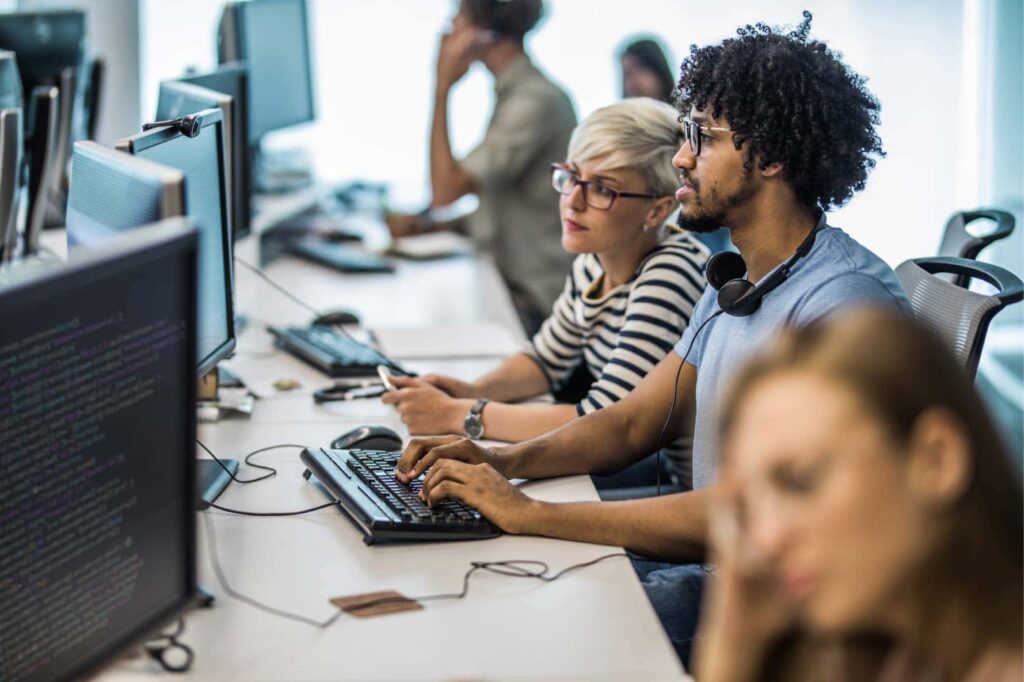 What is IT support and why is it redundant?
It made sense in the past to choose IT support as it was seen as the most reliable and popular option.
IT support is the practice of outsourcing professional IT services when there is a technical problem in your business. These professionals will fix the problem when they are made aware of it.
However, there are many reasons as to why people began moving away from IT support:
Fixing IT issues after they arise is not how you should be approaching IT and the worst thing is, businesses aren't aware of the damage they're causing themselves by continuing to work with reactive support services. There should be an emphasis on fixing issues before they become a problem.
With a reactive approach, an issue needs to be actively causing pain before it is­­­ addressed. This means your employees have to deal with more issues than they would like to.
Your clients will already be feeling the effects of a reactive process. For instance, if you're having problems with your servers and clients are unable to access your website, you'll begin to anger your clients and this could result in a loss of custom.
There is no way of knowing how long an issue will take to resolve, with a reactive support service, you're essentially allowing issues to grow and this could impact every aspect of your business.
IT support do not monitor for threats, they are not proactive in identifying threats and this makes your business 'blind' to vulnerabilities and cyber-attacks.
By lacking proactive monitoring and vulnerability scanning, these threats stay on your network for longer which puts your business at a greater risk than it really needs to be.
IT Support do not understand the word 'Efficiency' and with their reactive approach, your employees have to take time out of their day to deal with issues instead of them being pre-emptively resolved.
They have to call the reactive service desk and even if only for a few minutes, the wasted time can really mount up.
It was no surprise that as the world became more aware of Managed Service Providers, IT support became more and more redundant.
MSPs focus on proactively fixing issues and this makes a big difference for businesses in terms of time, money and efficiency.
However, whilst MSPs are a huge upgrade on IT support companies, the current world of business still requires a greater level of expertise.
The reality is, your business needs to be working with a Technology Success Partner (TSP) if you truly want to gain a competitive advantage in your industry. I know you're wondering, what on earth is a Technology Success Partner?
What is a Technology Success Partner?
Technology Success Partners (TSPs) are the bigger picture, they acknowledge the technical environment is constantly evolving and provide a proactive solution.
TSP's focus on the relationship between partner and business owner by giving expert advice and ultimately helping the business owner understand how technology can positively impact their business. There are 6 features of a Technology Success Provider:
1. Teams with expertise:
TSP's have big teams constantly monitoring your technology to eradicate any issues before they become a problem.
Also, TSP teams are the first line of defence against cyber threats by utilising the best tools available while constantly monitoring and optimizing all your firewalls.
With TSP teams, businesses receive a wide array of experience and opinions on the best way to work within business-specific frameworks to solve IT issues while formulating a strategy for the future.
2. Integrated Solutions
Have you ever bought new software or technology thinking it would take your business forward but instead found the technology doesn't fit in with your business?
Technology Success Partners leverage their breadth of expertise to match a business' needs and fully integrate the new solution into their existing system. In this way, businesses don't waste time or money on the wrong technology.
3. Compliance
A Technology Success Partner makes sure your business has the right information to make decisions around policies, procedures and security.
4. Virtual CIO
With TSPs, the Virtual CIO (vCIO) helps companies to develop a technology roadmap to support business goals so that business strategy is supported by adopting technology solutions that help to drive the business forward. The vCIO activity ensures that technology is proactively monitored, measured and maintained and that the IT health and security of a business at IT budget level is structured and customised for today's SMEs.
5. Top-End Security
Your technology success partner will present a detailed Cybersecurity plan that proactively protects your company before any breach can impact your business.
6. Simple budgeting
Utilising the vCIO helps objectively in planning over an 18 month period for the costs associated with supporting the business goals in upgrading and/or implementing new technology solutions. This means businesses can leverage value from the vCIO regarding budgeting for future hardware, software upgrades or newer technology.
What is the difference between MSP and TSP?
A Managed Service Provider proactively manages IT infrastructure and end-user systems whereas a Technology Success Provider drives companies to success through powerful technology strategies based on defined business outcomes.
Whilst they may sound very different, the Technology Success Partner model builds on from the Managed Service Provider model, in fact, a TSP can do everything an MSP can do – and more.
Technology Success Providers have roles and processes in place that are 100% dedicated to helping businesses understand the business impact of technology.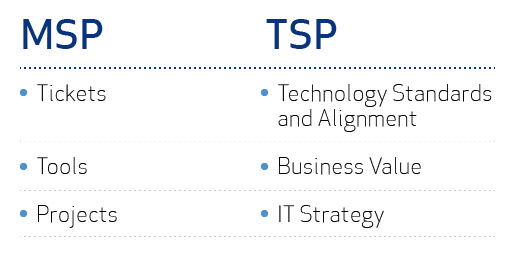 Solsoft's journey from MSP to TSP
Traditional IT Managed Services are largely reactive, built around fixing breakages in the time designated by your SLA. So, while you may get the basic support and monitoring, there are no other strategic benefits. Our partnership approach is structured for a new technology landscape where the focus is on strategic and proactive optimisation and issue prevention. This not only minimises downtime but also brings business enabling benefits such as:
Increased performance
Improved functionality
Increased efficiency
Reduced risk
Reduced costs
Productivity gains
We'll work with you to identify your business goals far beyond basic day-to-day operations. Then we align our IT provision with your strategic objectives significantly improving the business outcomes.
With Solsoft as your Technology Success Partner, we will put in place your fully optimised technology strategy taking your organisation's IT to the next level.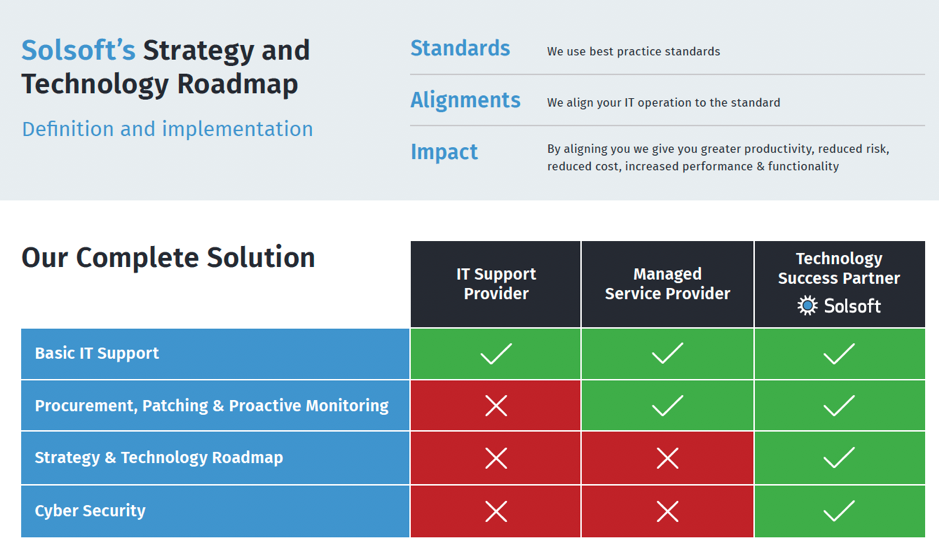 For more information on how we can help your business contact us:
Get in touch
To discuss a proactive, business aligned IT and IT security solution, that guarantees to reduce cost, increase productivity and manage risk, get in touch today.