The recent sea change in our lives, including the work environment, has presented challenges with remote working that have been difficult for many people to deal with and we have consistently provided a great deal of hand-holding, advice, information and support. I thought it useful to collect and share some of my experiences in talking to people about it and dealing with issues myself in working at home full time.
There's evidence that remote workers are more productive and according to a recent survey 53% of remote workers reported that they were likely to work longer hours that than they normally would compared to 28% of office workers. Also, remote workers are a lot less stressed because they don't need to deal with the commute. Swedish research found that for couples with one partner having a commute of at least 45 minutes per day there is a divorce rate 40% higher than those with shorter commutes. My guess is that this needs to be tempered with the potential stress of being cooped up for 24 hours per day but the important thing to remember is that a distributed workforce can keep companies operating in the event of a crisis. The source of this information is here https://www.zdnet.com/article/remote-working-101-professionals-guide-to-the-tools-of-the-trade/ where can also find some useful tools for remote working.
If you are like me and a bit old school and having an inclination to look at hard copies of documents you may well have experienced frustrations with getting your printer working, but also in scanning documents for signatures to be added. Microsoft 10 has a Scan application available to be installed if you need it, though there are other non-Microsoft proprietary scanning apps to be found online. If you have a fairly recent Wifi printer its utility will probably have a scanning function though if you are still struggling then I've found a good old photograph of your signature works by inserting it into a document when you need it! Of course, there are also online signature apps like the one we use at Signable.co.uk and this is very effective for us.
Another thing to remember when working at home, possibly when all family members are competing for Internet bandwidth and home routers are not as sophisticated as those in the office. Download and upload speeds that you are shown if you do a speed test (Speedtest.net or Fast.com) are only useful when uploads or downloads are happening. What I mean by this is that there's not reserved bandwidth for uploads, so if you have family members, let's say uploading videos to Youtube, then it will slow your Internet down during that upload – or just ban kids from uploading to Youtube when you are working!
Download Rates and Upload Rates
Typically, Internet service providers offer different download and upload rates on their Internet plans, with download rates usually being the faster of the two types. In daily Internet use, most people download more than they upload (downloading occurs whenever you view a Web page and view a picture or video online; uploading occurs in small ways, like when you log in to a site and transmit information or when you add photos to social media sites). You can test your upload and download rates with SpeedTest (See Resources). Perform a test while not doing anything on the Internet and then while uploading a file to see the difference in download speed. Depending on your Internet connection, you may have dedicated upload bandwidth that won't affect your download speeds.
From <https://smallbusiness.chron.com/upload-rate-affect-downloading-70037.html>
Keeping your systems safe has got to be another priority whilst home working. I'm surprised every time I look at my home network and see the sheer number of devices that are connected. Right now there are 17 wireless devices connected to my BT Smart Hub, including laptops, phones, tablets, TV's, Alexa, Sonos speakers and a printer. Please check your safety software such as Internet filtering and Anti-virus or talk to your Internet provider about how they can help.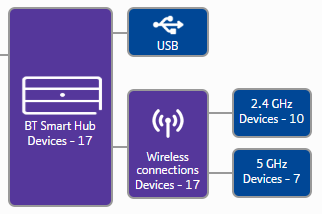 My Home Network Connections
One thing that we have noticed that we probably take for granted these days is that some people don't have microphones or camera's attached to their machines, or don't know that they are there, particularly where someone might be using an older home PC to work remotely. Most newer PC's and Laptops now come with these built in of course, through there can also be challenges in making sure that they are working. Some of us have started to use Bluetooth on the ear headsets, though even these can be a challenge, like switching themselves off in the middle of a call, for example, though generally they are very good. Like this type: https://www.logitech.com/en-gb/product/wireless-headset-h800. You can get them with up to 8 hours battery life, and they charge over USB with rechargeable batteries built-in.
We've been running some complementary webinar sessions on Microsoft Teams just recently and these are being very well received, we hope that they help share some knowledge about Teams and how to get the most out if it. One other application that many people are using is Zoom. I've not used it personally but it seems very popular. Another for more personal use in keeping in touch with family and friends is Houseparty, (houseparty.com) which is a lot of fun. Available on the App store, but with all these apps please make sure that you protect yourselves from video bombing as that has been a problem over the last couple of weeks. Basically, you can get people joining your calls unless you password the meetings or set them up as closed groups. Zoom has resolved a recent issue with this in an update by enforcing passwords – for HouseParty we suggest you "lock" the room once everyone is in the room to ensure none of your friends or those you are linked to can silently join the room without you knowing or lock the room itself.
If you need something extra on Teams then some useful videos can be found here: https://support.office.com/en-gb/article/microsoft-teams-video-training-4f108e54-240b-4351-8084-b1089f0d21d7
Finally, Solsoft continues to strive to provide you an excellent IT service and we are closely managing our viability as a business to make sure that we can continue to do so through this awful pandemic and out the other side. Rest assured that our service is at the forefront of our aims to make sure that we help you to continue to work where you can and to help and assist at every opportunity. If there's something you need then please, please tell us.
I hope that there's some useful information in here that provides some help, ideas or inspiration, thanks for reading.
Stay safe and keep well.
Kind regards,
Mark Warr, CEO
Contact us for more information
Get in touch
To discuss a proactive, business aligned IT and IT security solution, that guarantees to reduce cost, increase productivity and manage risk, get in touch today.